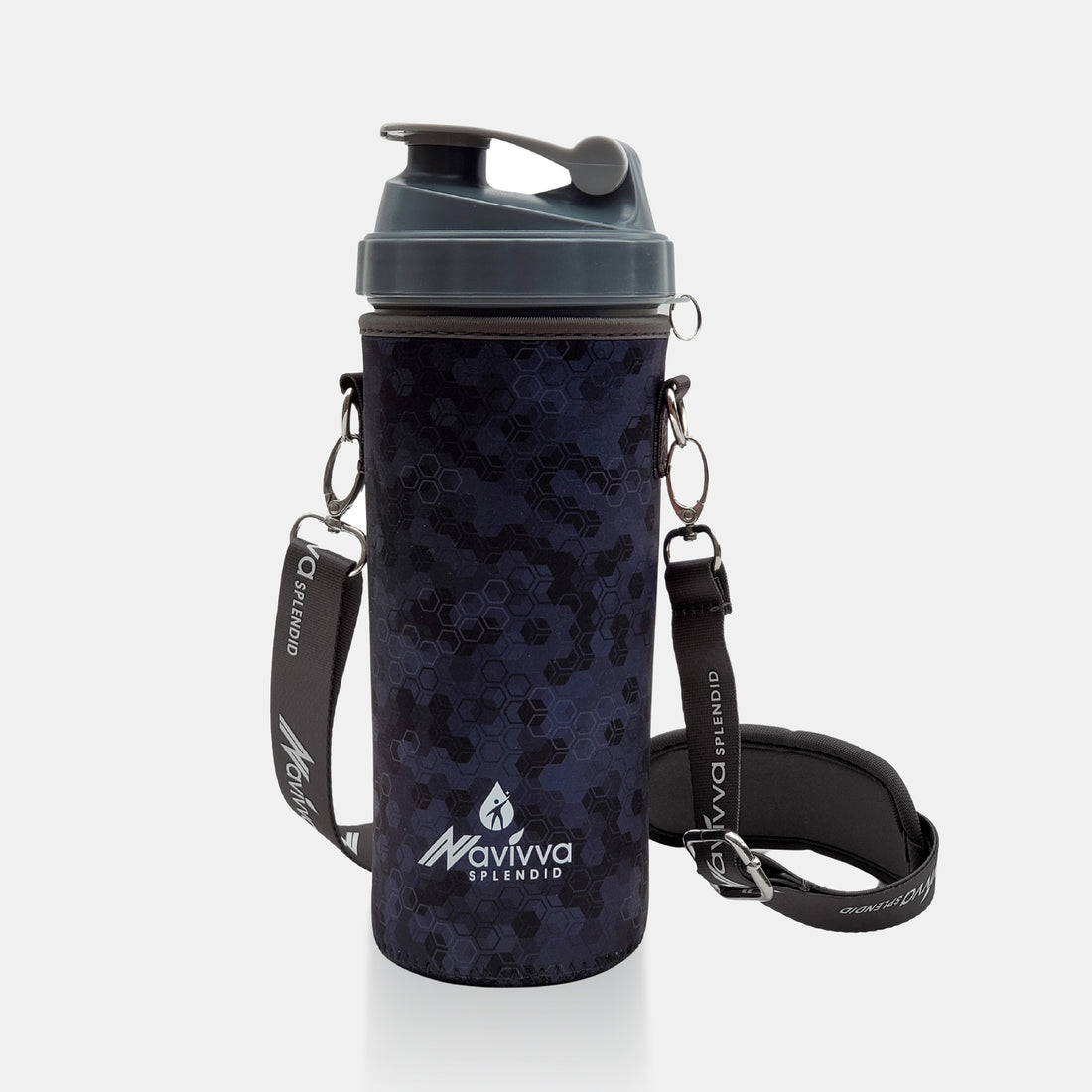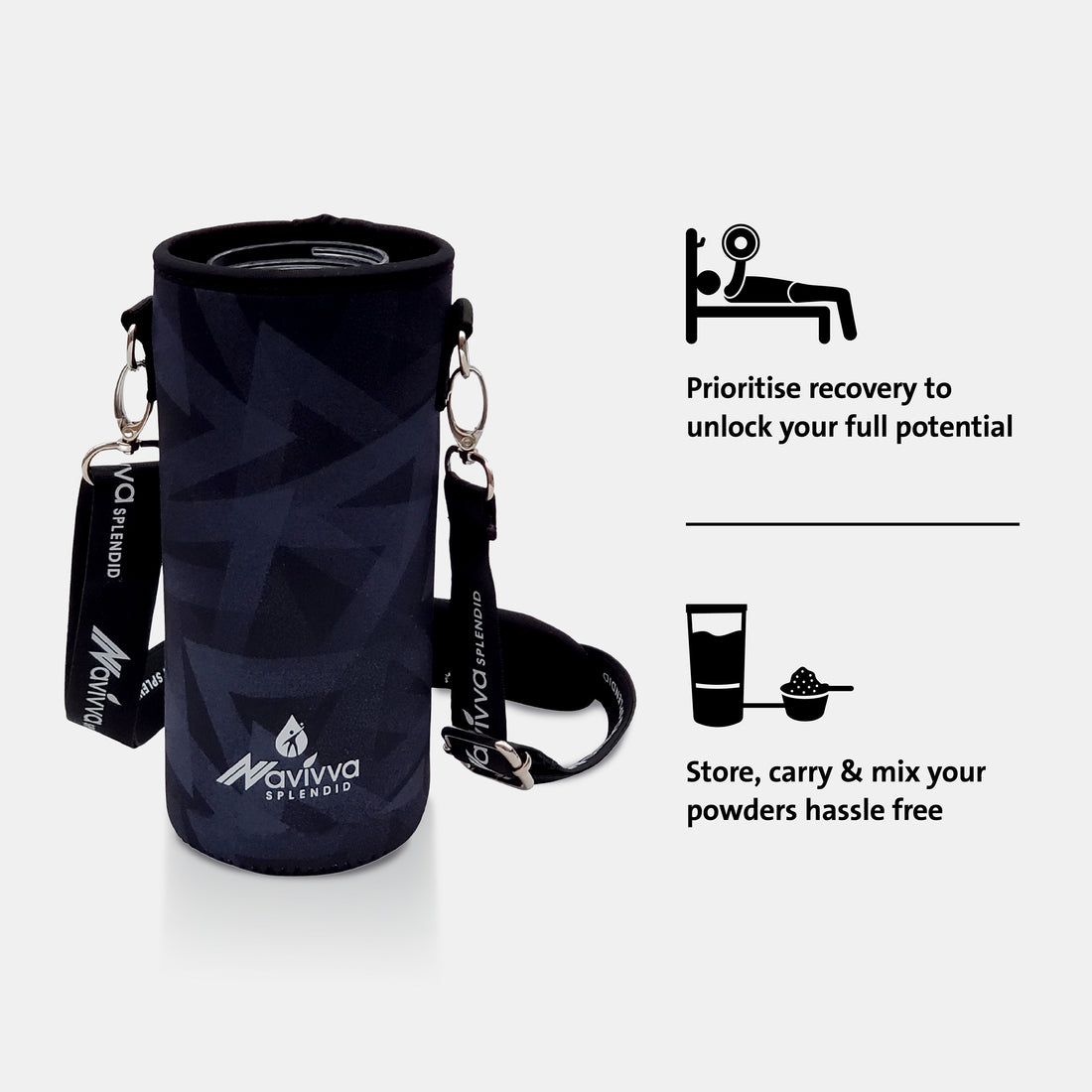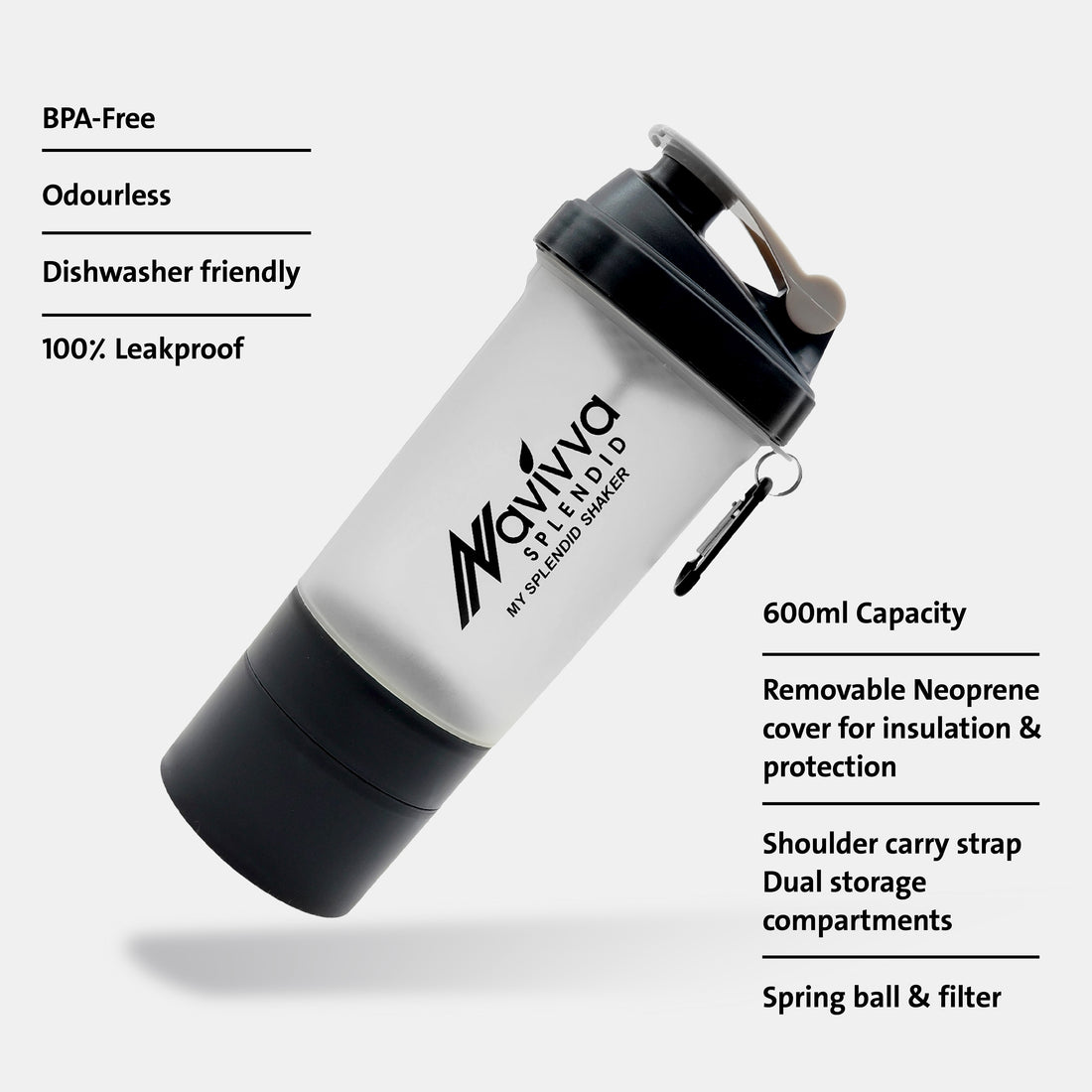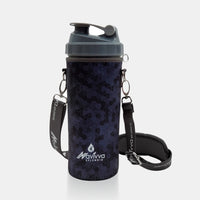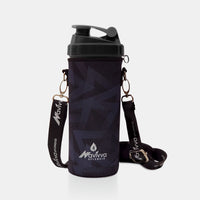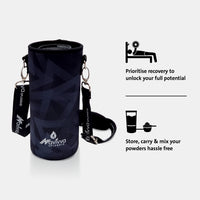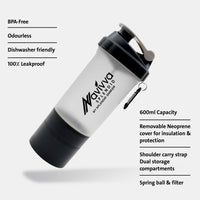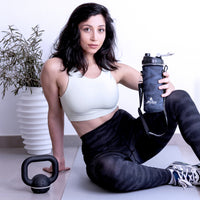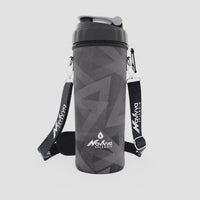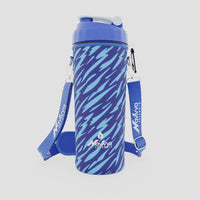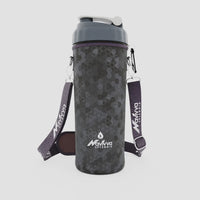 Shaker Bottle with Sleeve
Enjoy protein shakes on your bike, in the gym, whilst traveling or at the beach. Added sleeve cover with adjustable strap and padded shoulder makes carrying the
protein shaker bottle simple and easy. Made of heat resistant neoprene to ensure your shake or smoothie stays cool and delicious.
Free UK Delivery on all orders
The Navivva Splendid Protein Shaker bottle with Neoprene sleeve. The perfect reusable gym bottle to store, keep cool, mix & drink your shakes. 
Shake your way to meeting your nutritional needs on the go and during post workouts! This large 600ml protein bottle shaker is perfect for use with whey protein, nutrition, and weight loss. It has a compartment for vitamins and another one for protein powder. These BPA free water bottles are available in Black, Blue and Grey.
Volume 600ml 
Added Neoprene Cover 
Lightweight
Diameter ø 11cm -  Height 27 cm
Made of PETG material (BPA free)
Not suitable for microwave
Dishwasher safe
✔Improved Performance - ergonomically designed to sit and grip the palm of your hand with transparent cup allowing to see the contents of your drink easily combined with leak-proof cap and increased portability. Creating your power shakes has never been so easy and effective.
✔Custom Designed Patented Sleeve Cover  is the perfect accessory. Keeps your shakes protected and secure while you're on the go! Made from high quality stretchy eco-friendly and well-insulated neoprene material to keep your drink cold or warm for longer.
✔Perfect Gift for any Sport Enthusiast - with it's practicality and clean design, Navivva Splendid Shaker bottle with carrying sleeve makes it a great treat. Here's the gift that any smoothie drinker will love!  
Mixing all powdered supplements anytime throughout the day, as well as during pre and post workouts - the Protein Mixer will smoothly blend every time.
Adding more protein to your diet without having to eat more food or consuming large quantities of meat, poultry and fish.
Feeling comfortable with added dual compartments to store and carry any supplements you may need on the go.
Keeping yourself hydrated during any activity or whenever you're in need of a quick refresher.  
UK
Free Standard Delivery within the United Kingdom on all orders above £29. Standard UK shipping starts from £5 (3 - 5 days).
Free returns on all orders.

Europe
Receive free Standard Delivery within the EU for any order above £49.
Please allow 1 day for processing. For more information visit our Shipping page.
Fuel your workouts; ample space for all your mix-ins.
The Navivva Splendid Water Bottle with sleeve
Introducing the Navivva Splendid 2.2L Water Bottle - your ultimate hydration companion. With a 2.2L capacity, you can hydrate more and refill less, while the 5mm thick insulated sleeve keeps your drink cold and protects the bottle. It's also equipped with a pocket for your phone, a slot for your cards, and a buckle ring for your keys for added convenience.
The bottle features a leakproof design, a measurement scale to track your water intake, and an integrated handle that fits perfectly in one hand. It's made from BPA-free tritan material, which is durable and safe for everyday use. Plus, it's easy to clean and maintain with warm water and dish soap, either by hand or in the dishwasher's top rack.
Stay hydrated during any activity, whether it's at the gym, office, or home. This sustainable water bottle is perfect for hot and cold drinks, with a suggested temperature zone of +5C to +90C. It's not suitable for freezing, but you can add ice cubes for a refreshing drink.
With its innovative and stylish design, this water bottle makes an amazing gift for someone you love. And by reusing it daily, you're helping to conserve the environment and reduce plastic waste. So grab your Navivva Splendid Water Bottle today and stay active, healthy, and hydrated!
Key Features
Large 2.2L Capacity: Stay hydrated for longer with fewer refills.
Insulated Sleeve: Thick 5mm sleeve cover keeps contents cold and protects your bottle from any damage.
100% Leakproof: No more spills or leaks, even when on-the-go.
Measurement Scale: Offers clear visibility of your daily water intake to help you stay on track.
Integrated Handle: Fits perfectly in one hand for easy carrying.
Soft Carry Loop: Improved carrying convenience with the added comfort of a soft loop handle.
BPA Free: Drink safely from our food-grade Tritan water bottle.
Durable: Strong enough to withstand daily use and various activities.
Wide Temperature Allowance: Perfect for hot and cold drinks with a suggested temperature zone of +5C to +90C, but not suitable for freezing.
Ice Cube Friendly: Recommended for use with ice cubes to refresh your drink or cool off.
Easy to Clean and Maintain: Easily cleaned with warm water and dish soap either by hand or in the top rack dishwasher for added cleaning effect.