Large Sports Water Bottle
Hydration At Its Peak
Hydrates And Refills Your Body
Drink anytime and anywhere
never feel thirst again
Refresh after your exercise
Bottle for your busy lifestyle
One shaker, many possibilities
The bottle that brings the gym
to you
one-size-fits-all solution
Shaker bottle
that
cares
fuels your inner strength
with protein
BROWSE NAVIVVA SPLENDID
Discover our high-capacity water bottles and versatile shaker bottles, designed for gym warriors and outdoor adventurers alike. Stay refreshed and fuelled wherever your active lifestyle takes you.
2.2L Large Water Bottles
Pick your Favourite Colour and Style
Perfect for All-Day Hydration
BPA Free, Durable & Lightweight
Integrated Handle and Carry Strap for Easy Transport
Secure and Spill-Free Hydration On the Go
Height: 28cm, Diameter: ø14cm
Suitable for Hot and Cold Drinks (+5°C to +90°C)
Dishwasher Safe for Easy Maintenance
Great for Gym, Office or Outdoor Activities
Shop the Best Collections
We bring flavour to fitness
Navivva Splendid's bottles aren't just about hydration; they're about enhancing your fitness journey, whether in the gym or on a mountain trail. Easily add a twist of flavour to your water with fruits and veggies – think refreshing lemon-lime water to power your workout or hike!
Water Bottles FAQ
What makes Navivva Splendid bottles unique for gym enthusiasts and adventurers?
Our bottles are designed with durability and functionality in mind, perfect for rigorous gym sessions and outdoor adventures. Their large capacity means less refilling and more time for your activities.
Are the bottles suitable for both hot and cold beverages?
Absolutely! Our bottles have a generous temperature allowance, making them ideal for everything from cold water to hot tea.
How do the neoprene sleeves enhance the bottles?
The neoprene sleeves provide insulation, keeping your drinks at the desired temperature longer, and they add an extra layer of protection and style to your bottle.
Can I put carbonated drinks in these bottles?
We recommend avoiding carbonated drinks, as our bottles are optimized for still beverages to ensure the best experience and durability.
Why should I choose Navivva Splendid over other brands?
Navivva Splendid combines style, functionality, and durability, offering unique designs with practical features tailored for active lifestyles.
Can the bottles handle extreme temperatures?
Our bottles are safe for use with beverages from +5°C to +90°C, making them versatile for all sorts of activities and weathers.
Are the bottles leakproof?
Definitely. We've designed our bottles to be 100% leakproof, giving you peace of mind during your active pursuits.
Are the bottles dishwasher safe?
Yes, our bottles are dishwasher safe for easy cleaning, although we recommend washing the neoprene sleeves by hand.
The Shaker bottle
Your must have gym accessory.
You shake, we deliver.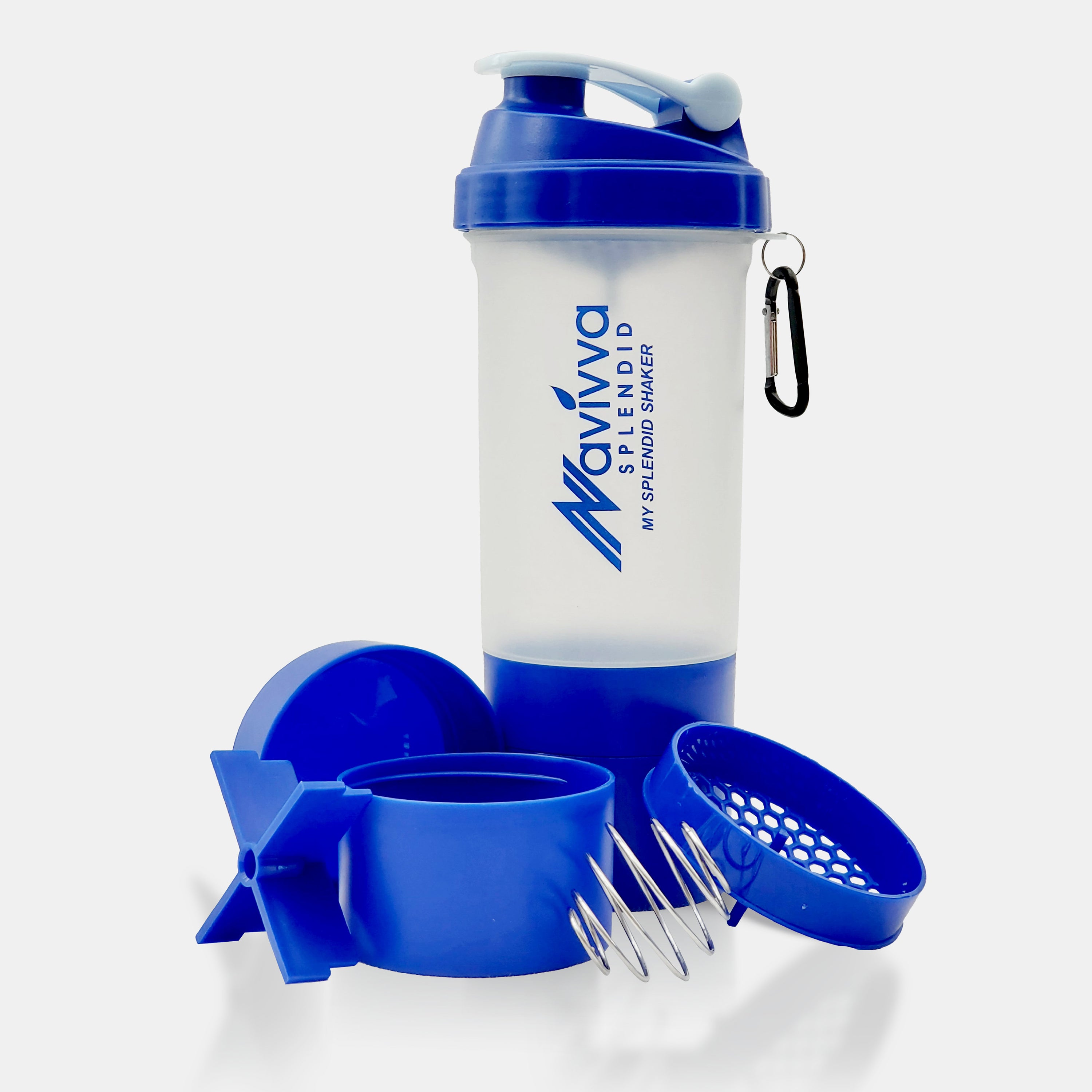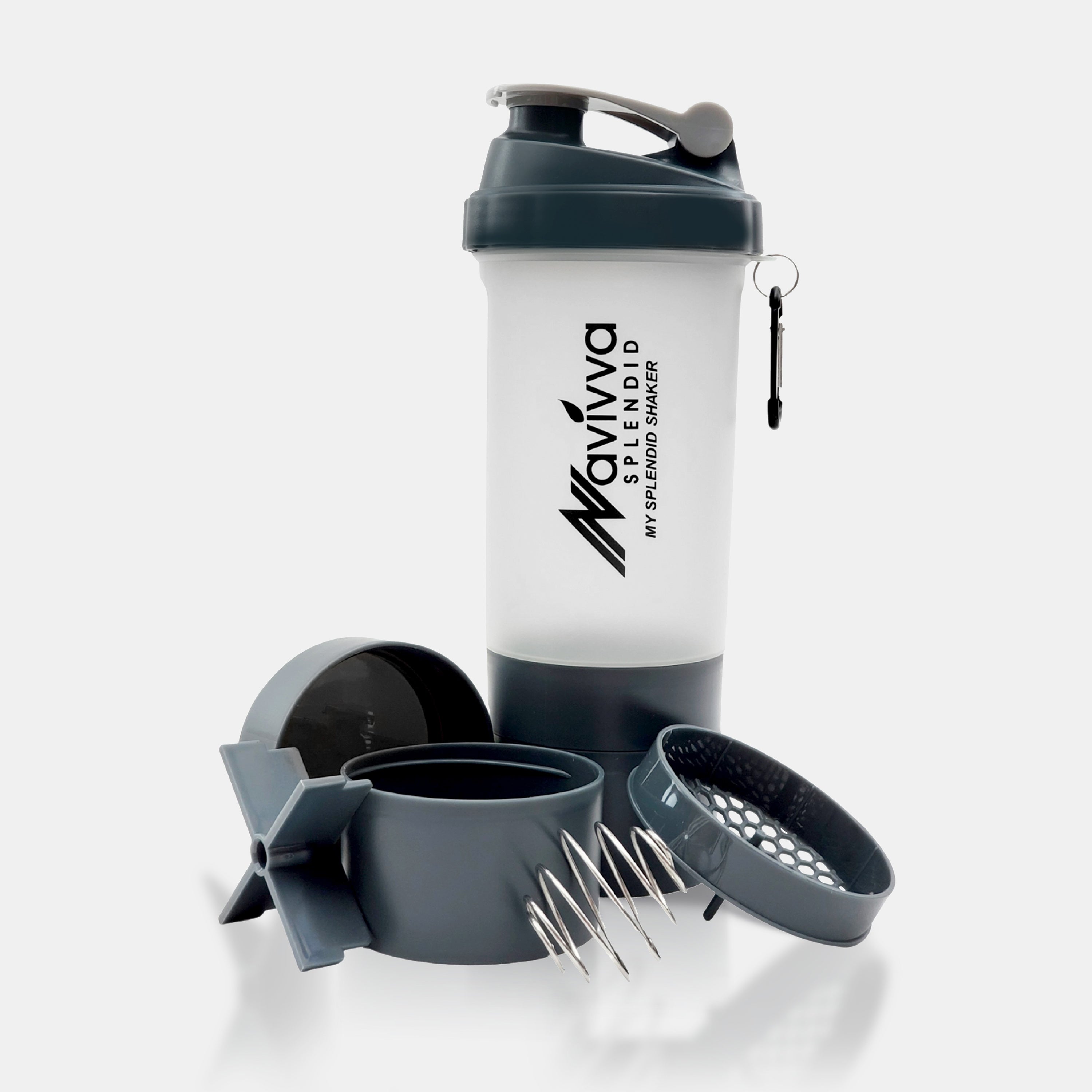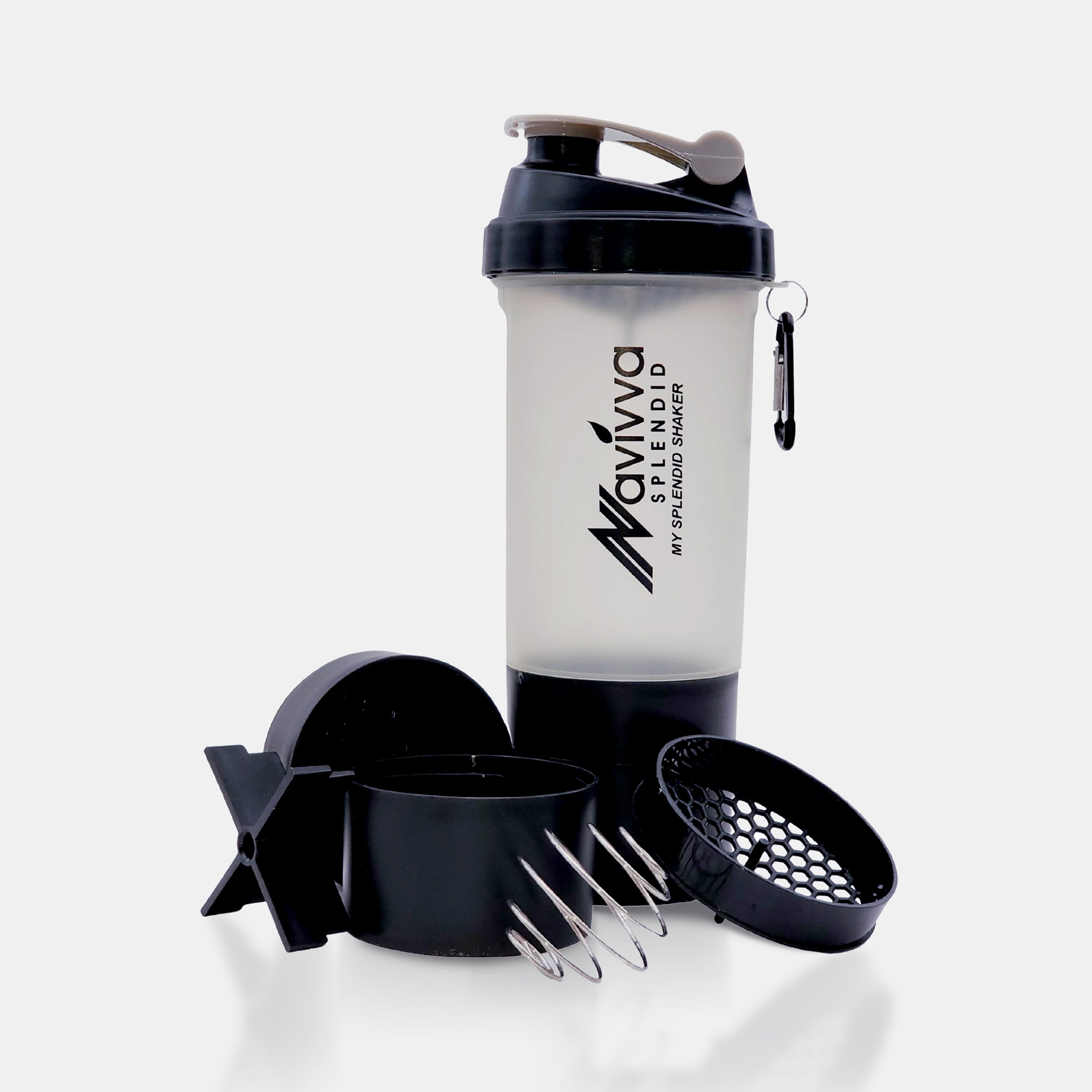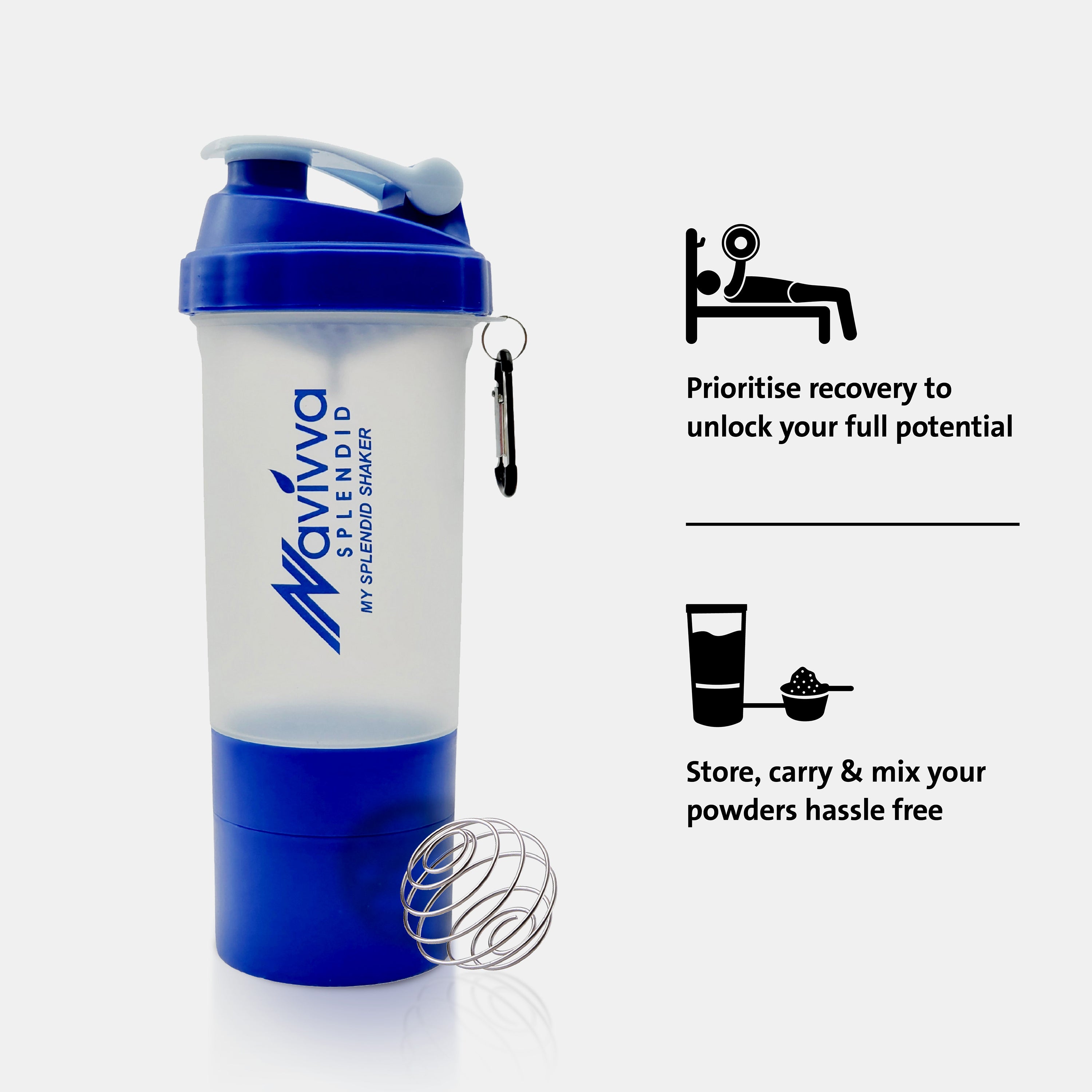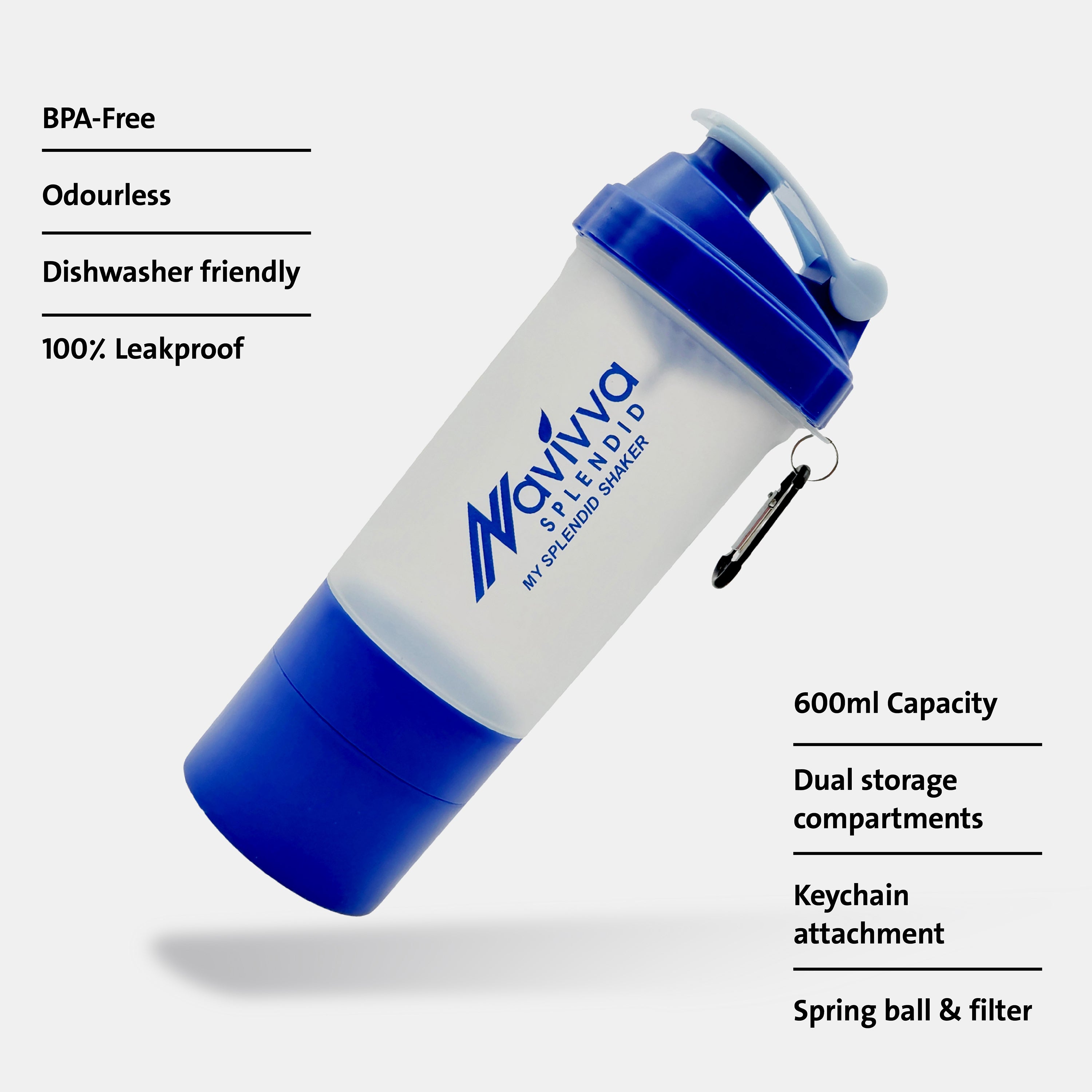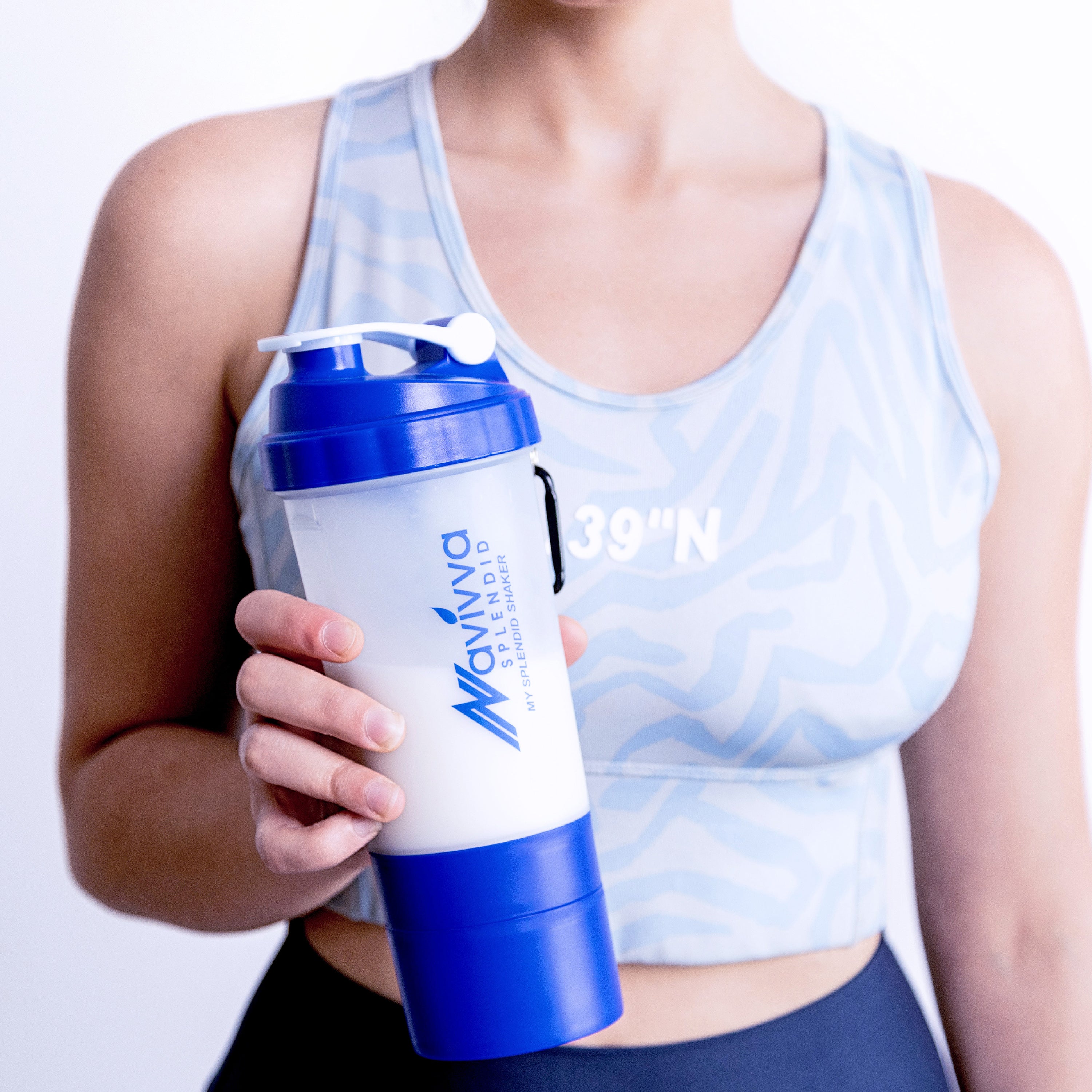 Be prepared to get your protein intake wherever you are - in the gym, at home, or when you're out and about. The Navivva Splendid Protein Shaker Bottle has multiple compartments and a leakproof top lid. This makes it easy to carry protein, capsules, and tablets with you wherever you go.
Our testimonials
Excellent
This Bottle is excellent. The cap and mouthpiece are very sturdy with a nice rubber texture, and it even comes with a spare. Best of all it has a straw, which means you don't have to tip it up to drink. I wasn't bothered about the insulation, but it also seems good. More expensive than my previous bottles, but definitely worth it.

Ronald Richards
Our customer
The bottle to end all bottles!
Absolutely the best water bottle I've ever bought. Comes with 2 lids, so you can decide on which you prefer. The added pockets to the bottle jacket are a really good idea. Not tried a hot drink in it yet but its kept my cold drink cold for ages. All in all im well impressed :)

Esther Howard
Our customer
Great Product
Replaced an older bottle. Top points. The mouth piece is very secure. No chance of it opening by itself, all very sturdy and strong. Good size to fit hand through or out over your shoulder. The outer material wrap is a game changer. If you have a cold drink in your bottle. You can get condensation on the bottle and water marks your desk or table. Not with this!

Dianne Russell
Our customer
Navivva's Bottles - Thoughtful Gift For Fitness Enthusiasts
designed to achieve your personal best

vibrant colors and innovative features

perfect for hydration on the go